Heather
Heather is a woman of many talents – in any one day you might find her sourcing our ethical beans, running coffee training sessions or delivering orders on the Bad Hand cargo bike.
She is also an intellectual powerhouse. Outside of roasting coffee and handling the day-to-day shenanigans of the warehouse, her passions include diving and studying marine archaeology.
Luke
Luke has worked with Joel and Jamie since the Boscanova and South Coast Roast days. We're pretty sure he's the friendliest guy we know. Whether he's roasting, training or taking trade orders, everything's served with a generous slice of comedy and fun.
Outside of coffee, Luke's enjoys devising fitness challenges. Highlights include races to unload 70kg coffee sacks, beating his own pull-up score or tackling the battle ropes.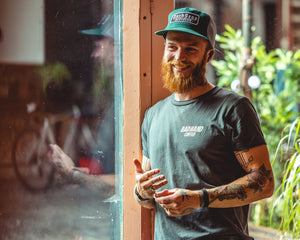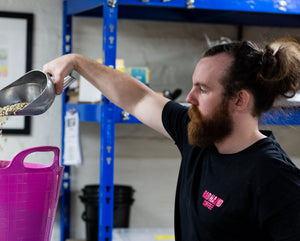 Jason
Jason is a laidback Aussie who joined the Bad Hand family back in August 2019. Like the rest of the team, he's on a lifelong quest to create the ultimate cup of coffee using his skills and magic.
Jason handles most of the roasting now, but – legend has it – he also delivers some of the orders on his motorbike while simultaneously busting out wheelies.
When he's not roasting coffee, Jase enjoys riding on the open road with the wind in his hair.
Sofia
Sofia is our resident badass. She's a strong, sassy and lovable hound that has taken over the Chesterfield sofa in the courtyard, claiming it as her own. We respect her pursuit for next-level comfort.